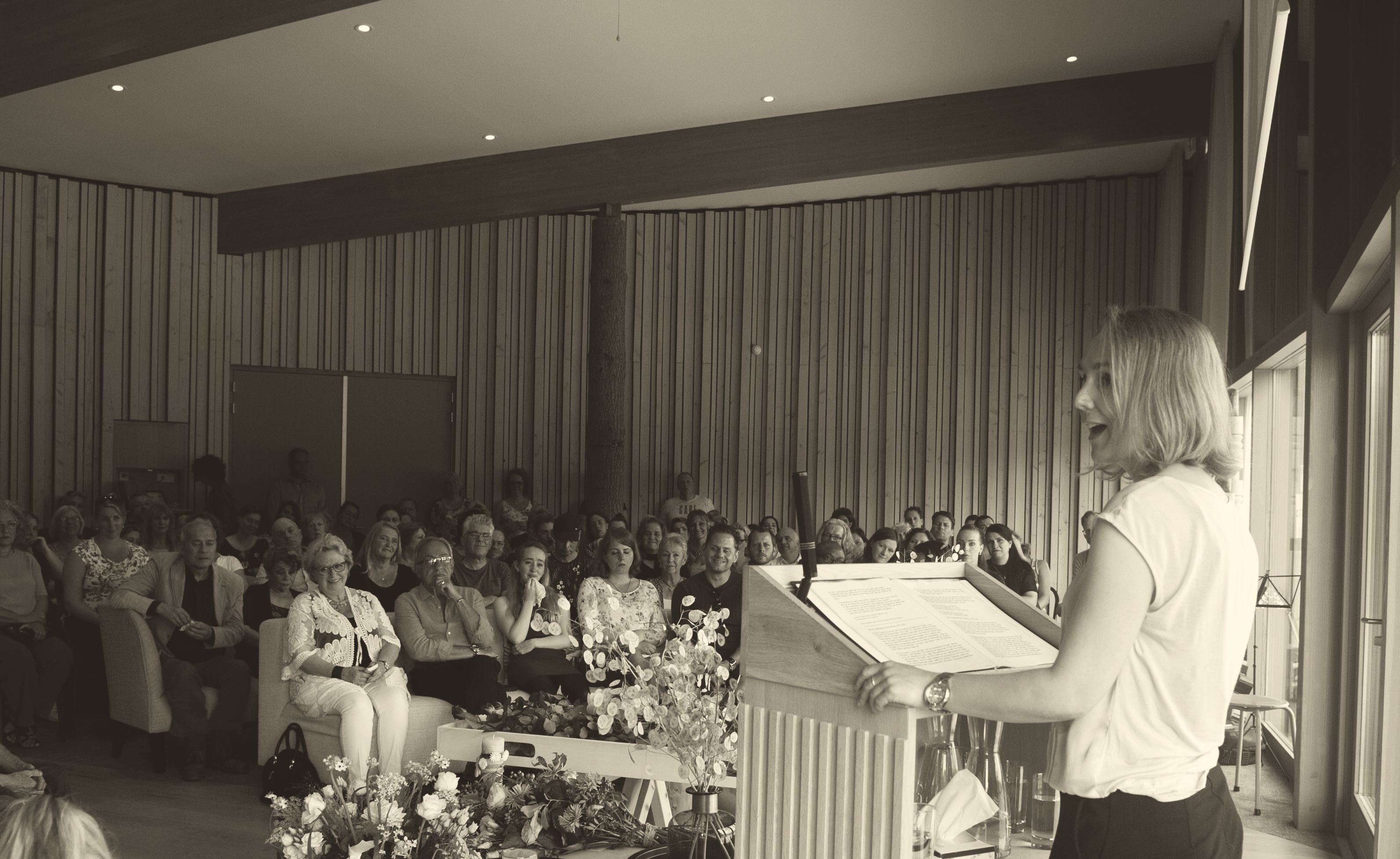 Fotocredit: Maaike van den Bemt
Het was het meest indrukwekkende wat ik afgelopen half jaar heb gedaan. Het was tegelijkertijd denk ik ook het meest mooie.
Mijn oudcollega Babs belde me een tijdje geleden met de vraag of ik ze die dag nog kon trouwen, want ze wilde een en ander geregeld hebben voordat ze zou sterven… Ik schrok me wezenloos. Sterven? Wist niet eens dat ze ziek was. Maar de dag van haar diagnose tot de dag dat ze zou sterven besloegen slechts enkele weken. Ik regelde dat ze de volgende ochtend kon trouwen. Ik kwam haar ziekenhuiskamer binnen en ze begroette me op haar Babs' "eej, jonguh!" Heerlijk. Ze maakte het zo makkelijk voor ons.
Ze trouwden. We waren met een klein gezelschap, 6 getuigen en een vriendin, een trouwambtenaar, een fotograaf, een bruidsmeisje en het bruidspaar. Een dag later zag ik de foto's. 1 foto bleef me bij. Een foto van een doorgewinterde werkhand met wat zwart onder de nagels, en een slanke hand met piekfijne nageltjes. De slanke hand liet ons zien hoe het met haar ging. Maar die dag werd dat leed even niet gevoeld. Wat spoelde was geluk, het besef van samenzijn en een liefde die niet meer met woorden te vangen was. Een liefde ten eerste voor elkaar, maar ook een liefde voor het leven, wat op dat moment pijnlijk duidelijk werd.
Een week later belde ze. Of ik ook haar uitvaart wilde doen. Pfff… wat een emotie golfde er door me heen. Toen ik ophing moest ik zo erg huilen. Mijn lijf rilde van boven tot onder. Omdat die jonge vrouw zou sterven, omdat ze zo goed wist wat ze wilde, omdat ze zo sterk was, omdat ze een pleegdochter had van 7, omdat ze zo'n leuk mens was, omdat ik haar lief had, omdat ik me niet kon voorstellen hoe je je moest voelen als je zou weten dat je nog maar twee weken te leven had.
Maar wat wilde ik het graag doen voor die lieve Babs. Ook al wist ik niks van uitvaarten.
Ik ben gaan schrijven. Schrijven vanuit uit m'n hart. Meer kon ik niet doen voor haar. Hoe werkte een afscheid/uitvaart eigenlijk? Ik sprak met haar door wat en hoe ze het wilde. "Een bak humor; daarom vraag ik jou;-)" Oké, volgende uitdaging; hoe breng je vrolijkheid bij een afscheid van een veel te jonge vrouw van in de 40…
Ik las een paar dagen later de eerste woorden die ik had opgeschreven en de tranen liepen over m'n wangen, het kwam zo ongelooflijk binnen. Ik twijfelde of ik dit wel kon op de dag zelf. Maar Babs wilde graag dat ik dit deed en ze wilde zo graag een persoonlijk afscheid. En dat kon ik toch, persoonlijke verhalen vertellen…
Ik dacht uren na, legde m'n andere werkzaamheden aan de zijkant en wist steeds meer wat en hoe ik het wilde doen. Wat ik wilde was dat de mensen die afscheid kwamen nemen van Babs, de ruimte kregen om echt afscheid te kunnen nemen. Dat ze konden luisteren naar het levensgeluk van Babs, nagenieten van haar gekke fratsen, weten wat ze meemaakte. Dat ze herinneringen konden ophalen, dat hun rouwen dáár kon starten op welke manier dan ook. Dat ik de mensen mee kon nemen in het verhaal van Babs. Een wonderschoon verhaal van een vrouw die het niet makkelijk heeft gehad, maar die zo ontzettend geliefd was bij iedereen.
Dat betekende dat ikzelf daar niet wilde gaan huilen, omdat ik van mening was dat ik daar de mensen niet mee zou helpen. Ik las de tekst wel 10 keer hardop voor thuis, zodat de emotie er wat uit zou gaan en ik de tekst met al mijn gevoel voor haar kon vertellen, maar zonder zelf vol te schieten.
De mensen kwamen binnen met groot verdriet en ik nam dat verdriet niet weg, maar ik voelde wel dat mensen afscheid konden nemen. Ik voelde me rustig en steady. Ik voelde me eigenlijk gewoon goed, hoe raar dat ook klinkt op zo'n moment.
"Voel je welkom en voel je welkom alles te voelen wat je voelt, mee te zingen, mee te lachen en ook te huilen. Babs hoopt namelijk heel erg dat dit een mooi en niet te verdrietig samenzijn wordt. Eigenlijk vroeg ze me er een bak humor in te verwerken. Ach, we zien wel hoe het komt. Laten we lachen als daar reden voor is en laten we huilen als we voelen dat dat nodig is."
Ze bedankte me dat ik dit voor haar wilde doen, maar ze weet niet/heeft niet meer mee kunnen krijgen wat voor cadeau ze mij heeft bezorgd. Om haar vertrouwen te mogen krijgen om deze 'klus te klaren', om mij mee te nemen op haar zeer toegankelijke wijze in de laatste dagen van haar leven. Dat zal ik nooit vergeten.
Om mij deze levensles te geven.
Ik droom af en toe nog over haar. Dan ben ik weer terug in die hospice. Ik ben nog aan het verwerken. Iets wat ik toen nog niet toeliet.
Ze is bij velen een vriend voor het leven. En ná het leven. Want het stopt hier niet.
"Lieve Babs, we zullen altijd blijven voelen hoe dat plekje in ons hart gevuld is met jou, dat plekje in ons hart waar je in bent gekropen en waar je onmogelijk nog uit kan gaan."