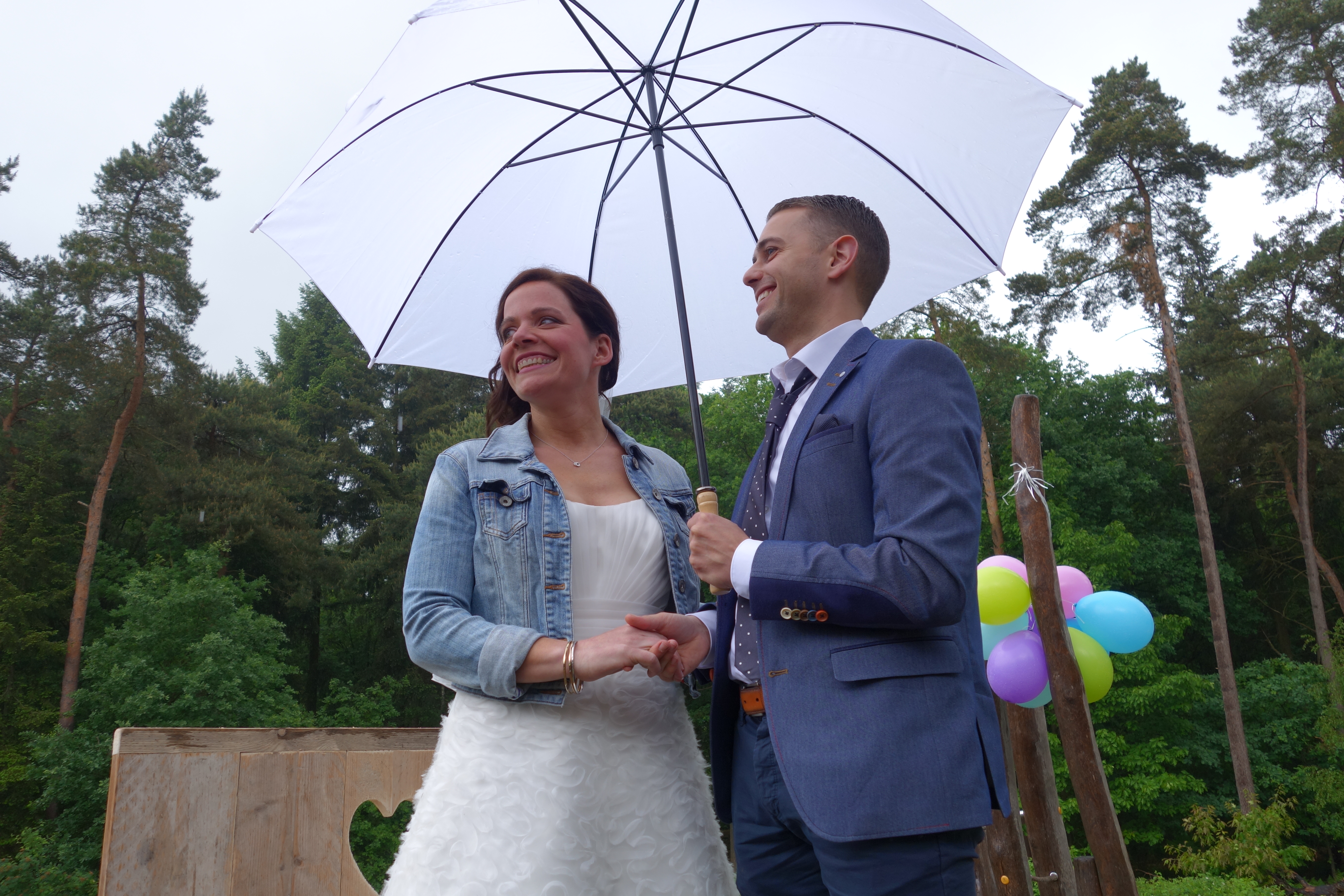 Regen. Dat is wat je eigenlijk niet wil als je buiten gaat trouwen. Regen. Dat is wat we in Nederland best vaak hebben. Regen. Het kan wél voor unieke herinneringen zorgen. Echt.
Ik leerde Joeri en Marjolein kennen als het meest relaxte stel 'ever'. Ze wilden gaan trouwen; buiten, niet standaard en lekker informeel. 'Daar kan ik wel wat mee' dacht ik! Het was op dat moment november en in mei zouden we vast prima weer krijgen.
Locatie voor de ceremonie was nog niet helemaal duidelijk, maar bos of heide dichtbij hun huis moest wel gaan lukken. Het feest ergens anders.
Pas enkele weken van te voren wisten ze het: het bos. Met blokken voor de gasten om op te zitten en een eigengemaakt trouwbankje voor het koppel. 'Wat als het regent?' vroeg ik nog. 'Het regent niet', was Joeri's optimistische antwoord. Er was wel een plan B, maar liever niet.
Een week van te voren sms-ten we wat heen en weer, over, het weer. Wisselvallig. Kunnen we daar wat mee? Een dag van te voren sms-ten we wat heen en weer, over, het weer. Nog steeds wisselvallig, maar met meer regen dan zon. Joeri was optimistisch als altijd: 'ik heb goede hoop'. Ok, dan ik ook natuurlijk;-) De ochtend op de grote dag vertelde buienradar ons dat het die middag droog zou zijn. YESSSSS! Toch maar niet dat heel zomerse jurkje, maar een iets warmer jumpsuit en geen paraplu. Natuurlijk niet!
Buienradar bleek alleen nog niet voldoende radartjes te hebben om miezerregen te detecteren.
Het regende. het bleef regenen. En daarom schrijf ik deze blog, want miezerregen zorgt niet voor miezerstemming. Integendeel! Het werd meteen een middel wat ons verbond. Mensen kropen bij elkaar onder de plu, mensen haalden kleden om op te zitten, deelden deze plekken met mensen die geen kleden hadden. De stemming werd steeds meliger en gezelliger. Mijn verhaal over deze twee fysiotherapeuten kon relaxed zijn, precies zoals zij zelf ook zijn. Het was af.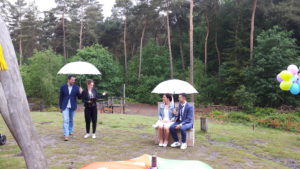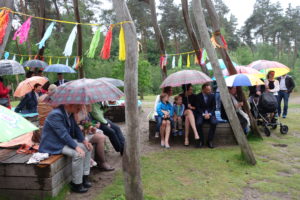 En weet je, dan gebeurt het. Op het moment van 'ja zeggen', stopte de regen, en en zag ik vanuit de lucht van die goudgele streepjes naar beneden komen. De paraplu werd weggegooid een een innige omhelzing met extra veel lading volgde.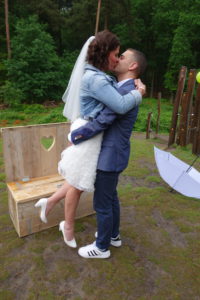 Nog een kleine toast na afloop en het vereeuwigen van het trouwbankje door alle gasten; en daarna vertrok het stel 'full of energy, love and happiness'  naar de feestlocatie! waar tot in de late uurtjes de voetjes van de vloer zijn gegaan.
En ik? Ik ging warm naar huis. Warm en met een big smile. Dit was iets wat ik echt door wil geven;
"you create your own memories for life, and they start inside"
"we make the sun sun sun shine"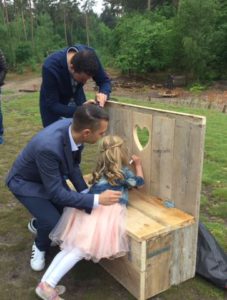 "Als we jou nog mogen complimenteren, je hebt een super mooie stem, je presentatie was heel vloeiend en echt. Je hebt onze geschiedenis mooi en persoonlijk neergezet. Erg leuk vonden we de anekdotes van de best friends. En erg belangrijk vonden we de voorgesprekken die al gezellig en gemoedelijk waren, waarbij je open stond voor onze ideeën maar ook meedacht met de uitvoering. In korte tijd heb ik het gevoel dat je ons echt hebt leren kennen en dat is toch wel heel speciaal.
Super super bedankt! En een aanrader voor toekomstige bruidsparen!"
Joeri en Marjolein